Proclaiming Christ to the Community and the World
GRACE CHURCH CONGREGATIONAL
Committed to the Sovereignty of God, the Authority of the Scriptures, and the Lordship of Jesus Christ
Addictions Victorious (AV) is a network of Christ-centered support and recovery groups. Our meetings are open to men and women of all ages who are seeking lasting change in their lives. We reach out in the love of our Lord Jesus to those who struggle with various addictions. We also embrace loved ones and friends that find themselves on the other side of addiction; those who are being adversely impacted by the addict's destructive lifestyle.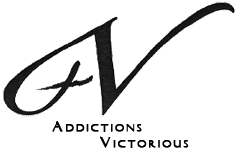 Our Meetings
A warm and friendly atmosphere provides loving support and fellowship; engaging in genuine confidential sharing and caring, coupled with the study of Scripture and intercessory prayer. We also encourage and assist one another with the building of healthy relationships; thereby expanding our sphere of support resources within the body of Christ (church family), for the purpose of nurturing ongoing forthright accountability and spiritual growth.
Two of the resources many of our meetings use are Tyndale's Life Recovery Bible and associated 12 step workbook.
Who Should Attend?
"Anyone in bondage to the rule of a substance, activity, or state of mind, which then becomes the center of life, defending itself from the truth so that even bad consequences don't bring repentance, and leading to further estrangement from God."
Edward T. Welch, A Banquet in the Grace
Common addictions include such things as substances (alcohol and drugs), tobacco, sex, pornography, gambling, pleasure, food, sports, work, success…etc.
What AV Is Not
Intended to replace or undermine any other Christian groups
Geared to any one denomination
A substitute for church involvement
A professional therapy group