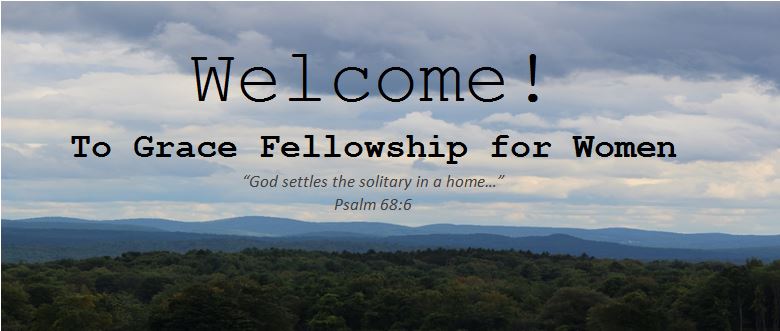 Grace Fellowship for Women 
I'm so glad you stopped to visit our new page for women.  We're excited to begin building this space in unison with our monthly fellowship.  No matter how busy or involved we are, many, especially women, feel alone in the crush of life.  God is working to settle our solitary hearts into His family, His church; purchased by the blood of His Son and kept by His Holy Spirit.
Fellowship is one of the means our heavenly Father uses to settle us in to the home He is making for us.  We are discovering what a great gift it is and desire all the women of Grace Church to share in its blessings.  But family responsibilities, work and scheduling can often be formidable challenges to getting out the door!   When responsibilities overwhelm, we hope this page will be a way for you to follow the Bible study and help you stay connected to your sisters in Christ!
Our aim is explained in this acrostic of five verbs:
• G ~ Gathered Matthew 18:20  Gathered face to face is always the ideal
• R ~ Rejoicing Philippians 4:4 With song & testimony to God's mercy, love and goodness
• A ~ Abiding John 15:7-11 In Scripture with study & discussion
• C ~ Confessing James 5:16 In prayer together, our sins & struggles and our utter dependence on God's promises
• E ~ Entrusting 2 Timothy 1:12 Giving & leaving all our burdens to our sovereign and loving God
Grace Church Congregational, Pittsfield, MA   (413)443-2575
Committed to the Sovereignty of God,
the Authority of the Scriptures, and the Lordship of Jesus Christ