Soccer and Samba Pt. 3: 6 Weeks, 6 Cities, One Great Adventure
Many of you know that while the World Cup and short-term missions trip were the primary purposes for this summer's adventure in Brazil, I was also there to learn Portuguese and explore the country in search of a new place to settle for a time, teach English, and get involved in some sort of Christian ministry. Rio had proved to be the "Marvelous City" it claims to be, but I had to see if there was any other city that might capture my heart or where perhaps the Lord would make it clear that I was to return for a longer time. The World Cup and mission outreach in Sao Paulo were covered in my previous articles. In this one, I'll try to give a decent rundown of the remaining 6 weeks.
I was the last member of the mission team to leave Sao Paulo, and after spending a great evening with a professional soccer team at the invite of one of the members of our host church, I was on the bus for the midnight ride to the next major city to the south.
Curitiba
Curitiba, settled largely by German and Italian immigrants, had been recommended as a good possible place to live and teach English, with its low crime rate, orderly layout, and highly efficient public transport. I also needed a quiet place to hibernate and ride out the World Cup withdrawal along with the emotional low that tends to follow a great missions trip. The hostel I stayed in was mainly used by young Brazilians temporarily working or studying in the city, which made it a great place to relax, make new friends, and put in some quality Portuguese practice. Curitiba itself felt lacklustre compared to the bright lights and bustle of Rio and Sao Paulo, so it was hard to give it a fair trial. On top of that, the city is far south enough for the Brazilian winter to almost actually feel like winter, with temperatures at night hovering around freezing. After a week, I was ready to change places, but I was sorry to leave my new band of friends behind.
Foz do Igauçu
A one hour flight brought me to the small inland city on the border with both Paraguay and Argentina. Foreigners come to this place for just one thing: the awe inspiring Iguacu Falls, one of the 7 natural wonders of the world. My new hostel was entirely English speaking, and endearingly dilapidated so that it felt almost like camping while indoors. There was even a massive tree growing up through the living room floor and out the ceiling! Opportunities to teach English in the area are quite limited, so my 5 days there were more of an all-English-speaking nature vacation than anything else. The waterfalls were spectacular and a blazing sunset behind them brought cheers and applause from all the visitors to the park that afternoon. In the evenings, back at the hostel, most of the guests would huddle together in the living room wrapped in thick blankets to fend off the damp chill. After a few days of trading backpacker stories, swapping travel tips, and eating lots of pizza, it was time for us all to part ways.
Salvador
A full 8 hour day of air travel brought me north and across the country warmer temperatures but cloudy skies in the coastal city of Salvador. I came here with high hopes, as many people had said I would be a good fit given the city's outgoing and festive atmosphere. Salvador is also the center of Brazil's black population, the largest outside of Africa (United States is the second largest). What I found though, were herds of tourists crammed into a few well-preserved and heavily patrolled blocks filled with expensive restaurants and souvenir shops, and dire warnings against venturing into the dark and  dingy streets that lay beyond. Panhandlers and petty thieves combed the busy cobblestone streets in the day time, and drug addicted children threatened passers-by in the deserted square at night. It's true, there were plenty of  festivities, but despite the near constant companionship of other travellers and a few new Brazilian friends, I felt uneasy, lonely, and discontent.  One of my mission teammates who came from the area confirmed my own feeling that this city was heavy with black magic. I looked forward to visiting a church that Sunday and picked my way through deserted streets after dark to arrive at the evening service of a large Presbyterian church. The service itself was nice, but the church itself was not particularly welcoming. I came and went without being able to meet anyone at all. After 8 days, Salvador had been a disappointment, and I was ready to discover a new city.
Fortaleza
Another 8 hours of air travel landed me much further up Brazil's coast, just a few degrees south of the equator. Fortaleza is the largest city in the rugged, lawless swath of desert that is north eastern Brazil. I took up the invite of a young American man and his Brazilian fiancée to help turn their newly purchased fixer-upper into a comfortable new backpacker's hostel. In return for a few hours of sanding, painting, and other grub work, they provided me with accommodation, and an authentic introduction to their city. The new house was not yet ready to be lived in, so we were all squeezed into the high-rise apartment that housed the couple along with the young Brazilians woman's entire family.  Although it was tight quarters at times, the living situation gave me a close up view of their culture from inside a family home, complete with mandatory cooking lessons from the mom, who insisted that I not be useless in a Brazilian kitchen.
One disconcerting aspect of Fortaleza was the fear that many residents had after dark. Outside of a few select places, sidewalks are deserted after sunset, and most drivers avoid stopping at red lights out of fear of being sitting targets. Everyone had stories of being robbed at gunpoint, and vigilante style law enforcement appeared to be the norm.
Despite the risks, I found myself attracted to the city, with its long sandy beaches and a steamy, sunny climate almost every day. I also had the chance to meet two friendly groups of Christians, one of which was a Baptist church just walking distance from our apartment; the other, a new Calvary Chapel group that met on the beach on Sunday evenings. After plenty of beach soccer and a healthy overdose of water sports, it was time to leave, but I would have gladly stayed for a more extended time.
Rio de Janeiro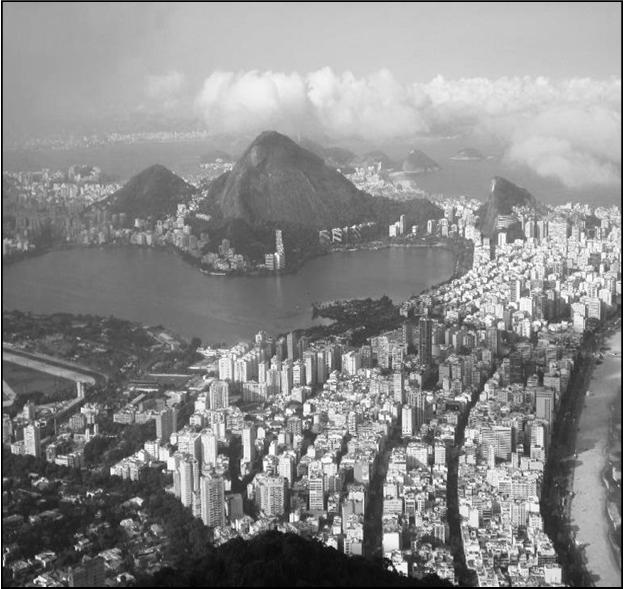 With one week left in Brazil, it was time to bring the trip full circle. My adventure would end where it began, in Rio. I returned to the same hillside favela I had stayed in previously, renting a room with the same host family. Any anxiety I felt about returning to this often unpredictable district on the city's edge melted upon arrival. Although much of the police presence had faded with the departure of the World Cup tourists, I still felt much more at ease here than almost anywhere else. My host family was gracious, even after I blew up part of the stove in their guest apartment. A couple new friends showed me new parts of the neighbourhood that would have been no-go zones had I been by myself. More highlights included a mountain hike leading to an amazing view of the city, and seeing a swimmer successfully rescued by helicopter out of the high surf. I said goodbye to the favela with 2 days left and checked into a backpacker hostel closer to both the city center and the airport. One more night out with other travellers, one more sunrise over the beach, and it was time to pack up one last time and fly home.
Conclusion
Spending almost 3 months in Brazil was a long-time dream come true. Although only a small part of it was officially with a missions team, I have no doubt that God had me right where I was supposed to be each step of the way, and I am thankful for the many prayers that surrounded me during that time. I never experienced any Elijah-and-prophets-of-Baal style divine intervention, but I know that the Lord was guiding my paths, even as I occasionally stumbled along the way. Brazil is an incredible country, and my time there confirmed my desire to return as an English teacher for a longer period of time. I would appreciate any prayers for wisdom and direction. God is doing great things in Brazil, and I consider it an amazing privilege and blessing to have been able to share in that experience.
By Ian Bridgman
Categories
Blog
/
Missions
/
Uncategorized